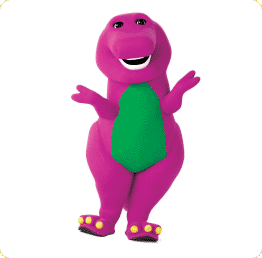 Just when I thought my boys couldn't get more sick, they did. The Commander got a bad earache on top of his cold and the baby boss got my stomach bug on top of his Bronchiolitis. How does a baby cope with an upset stomach and not being able to breathe? Well, let's just say it's not pretty.
The way my four year old copes with sickness is also not pretty. It's Barney. All day, every day....BARNEY (My dream: Me and Barney in a dark alley alone)! I asked him today, "Why do you like Barney so much?" He said, "Because he's always happy." So, Barney it is.
The surprising thing is that I'm dealing well with this disastrous scene. Whenever my family's sick, I go into survival mode and dig deep to find the energy to take care of everyone (We all do, don't we?).
On a lighter note, Sassafras is currently at a "Fancy Nancy" party and got all dressed up with her cute little friends. I love it!
Hopefully a more cheerful blog post will be awaiting you tomorrow. Stay healthy people!