Since I've been married, we've moved a lot. This can be difficult, but I've also had the privilege of meeting some amazing people that I now call friends. Every once in a while, one of those friends will pop up and we'll connect again and I remember how blessed I am to have such kind people in my life.
One such friend recently contacted me offering to do a give away on my blog. So, here is a gift from her that can easily be yours.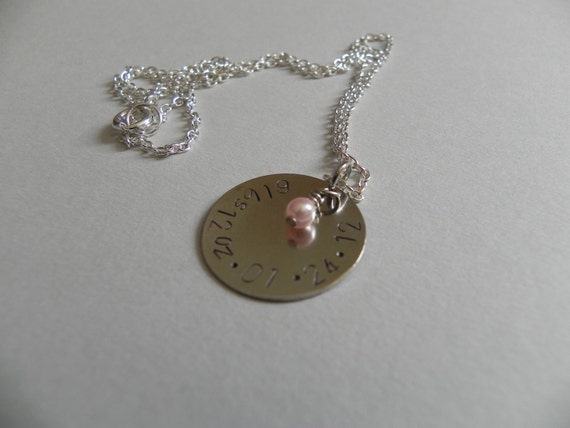 Keep on reading for details on how you can win (it's easy!).
The item is a personalized, hand stamped, silver plated necklace. As seen above, it is stamped with a new baby's birth information, but your necklace can be stamped with whatever information you want and your choice of bead.
Aleesa has lots of great merchandise in her Etsy shop-
Quiet Time Today
and she is offering a 10% discount to all of you for the next month. Just enter
jody10
at check out.
Her shop isn't just an ordinary shop. Let me give you some history on how it began.
The necklaces started as a project for her daughter's birthday party. She had some left over and decided she might as well sell some. She also thought an Etsy shop would be a good place to raise a little money for a fundraiser her family was working on. Aleesa said, "Almost 3 years ago my nephew was diagnosed with Duchenne Muscular Dystrophy (DMD).
Basically, his muscles will

eventually deteriorate, he will be in a wheelchair before he's a teenager and probably not live past 30. He's doing good right now, but we are raising money for the SLC Muscle walk on March 31. Our goal is $5000 (which I honestly NEVER thought we'd come close to...I figured they were dreaming:). But, we are almost to our goal as a team, The organization is still thousands of $$ away from theirs. So if we can raise more then we planned on, great! Anyway, so right now 50% of the profit of each sale goes towards the Muscle Walk, to be donated in Caleb's name for research on MD. I've also got a special Caleb bracelet that he and his mom helped design from which 100% of profits are donated."
It's amazing that she is donating such a huge percentage to such a great cause.
To win this adorable necklace, all you have to do is leave a comment on this post. That's it.
I will announce the winner at the end of the week, at which point you will get to personalize your prize. Yay! And while you're on the world wide web, zip on over to
her shop
and peruse her other items.